Doctoral and Postdoctoral appointments
Congratulations to Amy, Daniel and Janis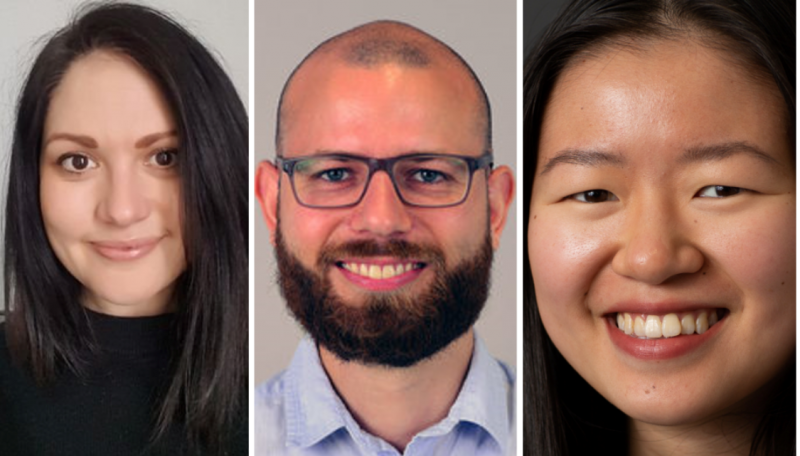 Three CRISP doctoral students have been appointed to prestigious research projects at institutes around the world. Amy Stevens, Daniel Marciniak (both CRISP Essex) and Janis Wong (CRISP St Andrews) have been snapped up by leading institutes investigating surveillance in governance, policing and education respectively.
Amy Stevens (pictured left) has been appointed a Senior Research Officer (post-doc) for the ESRC Human Rights, Big Data and Technology project at the University of Essex. In the medium term Amy will be working with Pete Fussey on analysing research data on state's digital surveillance surveillance practices in the US, India, Brazil and Zimbabwe. Amy's PhD research focused on civil society and private sector challenges to state surveillance.
Daniel Marciniak (pictured centre) has been appointed postdoctoral Research Fellow at Max Planck Institute for Social Anthropology in Germany. He will be working with Maria Sapignoli on the AIming Toward the Future: Policing, Governance and Artificial Intelligence project. Through this work Daniel will be building on expertise around digital policing cultivated in his PhD.
Janis Wong (pictured right), a current PhD student at St Andrews, was appointed Research Fellow at the Open Data Institute in November 2020. Janis's work at the ODI will focus on data protection, privacy and governance as it relates to educational technology. Janis's PhD research aims to create a socio-technical data commons framework that helps data subjects protect their personal data under existing data protection and information regulations. She is supervised by Tristan Henderson and Kirstie Ball and is based in the School of Computer Science at St Andrews.
Good luck Amy, Daniel and Janis in your new roles!
Posted: December 17th 2020